A Pleasant Prairie woman is likely sleeping better theses days, after a man who was allegedly terrorizing her for weeks is behind bars and holding on a $120,000 cash bond. Devin E. Sawyers-Dussault (32) of Zion, IL was arrested on New Years Eve at about 8:30 pm by Zion, IL police. According to Deputy Chief Sweeting of the Zion Police Department, detectives had a house Dussault was inside of surrounded. Dussault ignored their commands to exit the home, but a relative later convinces him to exit. He was then arrested and extradited to Kenosha County. He appeared in court yesterday for his initial appearance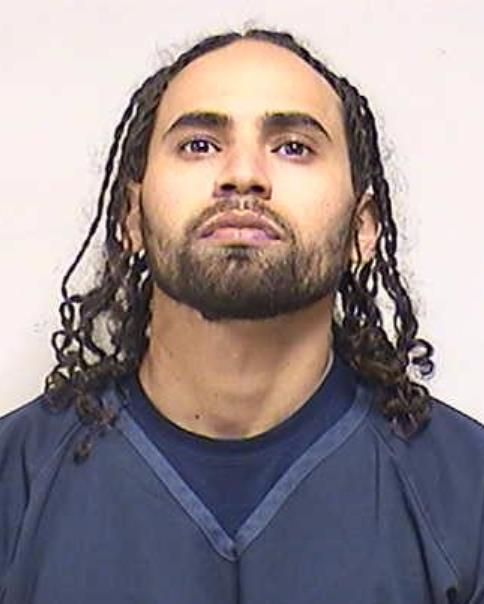 Dussault is out on bond for several cases in Wisconsin for violent crimes. He has a 2010 case from Jefferson County, a 2017 case from Kenosha and a 2022 case from Kenosha. The 2010 case is for three counts of domestic abuse against a different woman. The 2017 case is for possession of cocaine and drug paraphernalia, obstructing an officer, and misdemeanor bail jumping.
On June 6, 2022 there was an incident with Dussault and his ex-girlfriend. He was charged on July 1, 2022 with 26 counts including four felonies and 22 misdemeanors including:
One count of strangulation and suffocation
One Count of Burglary
Two counts of domestic battery
One count of simple battery
Two counts of domestic-related intimidation of a victim
Three counts of disorderly conduct, two with the domestic abuse enhancer
One count of theft <=$2,500
One count of criminal damage to property and
14 counts of bail-jumping.
Dussault's bail was set at $10,000 cash. On a motion of his attorney, and agreed to by the Kenosha County DA's office, he was released on a no cash bail on August 29, 2022.
According to the criminal complaint:
On December 11, 2022 at 4:03 am, Dussault's ex girlfriend, who is shares a child with Dussault and is pregnant with another one of Dussault's children, called police. She showed Pleasant Prairie Police security footage of Dussault smashing her windshield. She also showed police text messages she believed were from Dussault. One read "fix yo shit" and the other read "it's gon get worse if u don't fall in line." Dussault also called her 49 times – she didn't answer. This was the second time that she believes he smashed her windshield. The woman believes that Dussault is trying to intimidate her and scare her into recanting her statements to police for the June 6th incident. Dussault threatened to kill the woman and the two's unborn child. Dussault called the women several times and drove by her home several times for many weeks. He threatened her many times as well. She did receive a temporary restraining order from Kenosha Circuit Court, but the defendant was never served because he could not be found. Dussault also damaged her cousin's car as well. He then texted her saying "got yo cousin". He also texted her "shit gon happen every week until that baby" followed by a skull emoji. She believed that was meant to communicate a death threat to the baby. A warrant was issued on December 19, 2022 for Dussault's arrest for this behavior.
On December 29, 2022, the woman called police again. She reported that he continued to threaten her life and drive by her home. He texted her "I could've killed you", "I know next time", and "I'm finna kill you."
Later that day, Dussault fled from Zion Police. Zion PD then contacted Pleasant Prairie Police to let them know they believe he was near Big Oaks Golf Course in Pleasant Prairie. Dussault was not located. On December 30, 2022 the woman reported more contact from Dussault. He texted her saying "bitch omk u betta hide". "I was lookin for you all fuckin night. I'm tired now, I'll be back around tonight" and "see you soon bookie. Just no im going to kill you this time. And dgaf (don't give a fuck) if I gget caught for it. Long ass you a dead bitch."
He later texted her "wya(where you at)", "I can't wait till I find you", "Walk in that house if you want to." He later texted "Bitch I can't wait to caught you", "Lmao its not hard to find you dummy", "Stay safe out there tonight bookie", "it be a lot of unnecessary shooting an shit an I wouldn't want you to get hit on no fluk shit smh", "Lol why you plaing with that man on Facebook? You're a crazy psycho bitch. I hope sb kill you cuz you dirsty asf (as fuck). Kill you and that baby" and "Go visit your dead ass granny."
The woman feared for her safety and said that Dussault carried guns. Later that day, PPPD found Dussault in his vehicle and attempted a traffic stop. Dussault fled and lead police on a high-speed chase into Illinois. Police were given permission to cross state lines. Police used stop sticks and flattened the left two tires of Dussault's car. Police and prosecutors say that Dussault put the lives of many people at risk during the chase. He continued and later exited his vehicle and fled on foot with what looked to police to be a gun. Police then established a parameter but Dussault got away. Police found meth and ammunition in his vehicle.
The next day is when Zion PD took Dussault into custody.
Prosecutor Zach Brost asked Commissioner Keating for a cash bail of $95,000 cash bail for both cases that Dussault is facing, saying that he doesn't think he will appear in court and that he is prone to fleeing and endangering others. Brost also told the court that Dussault was taunting police on the Village of Pleasant Prairie Police Department's Facebook page when they posted his mugshot and request for help. Dussault wrote on the Police's Facebook post "I am going to sue the Police when I beat these charges" and "You gotta be quicker than that [with the stop sticks. HAHAHAHA]"
Kenosha County Circuit Court Commissioner Loren "Larry" Keating set Dussault's bail at $120,000 cash saying that the allegations against Dussault are very serious and a high amount of cash bail is needed to endure his presence in court. Dussault is due back in court on January 13, 2022 at 8:15am for a preliminary hearing.